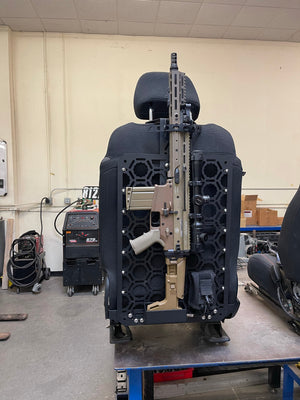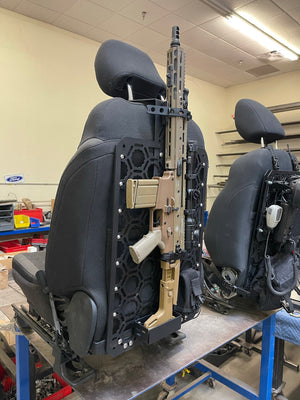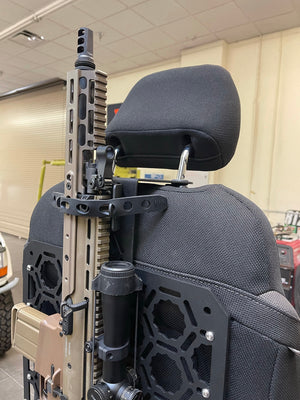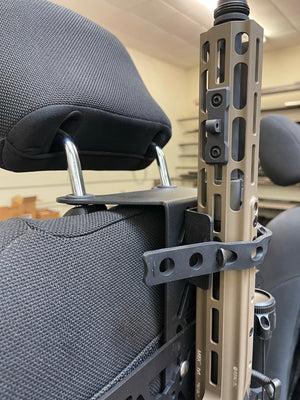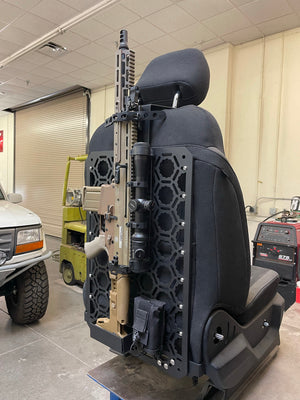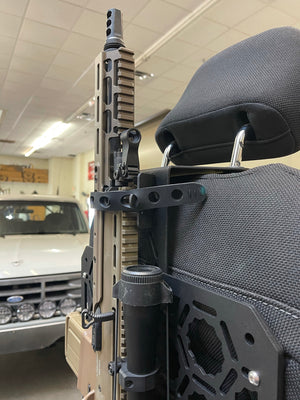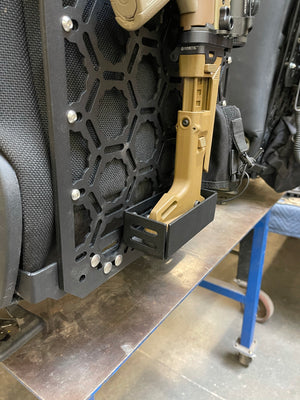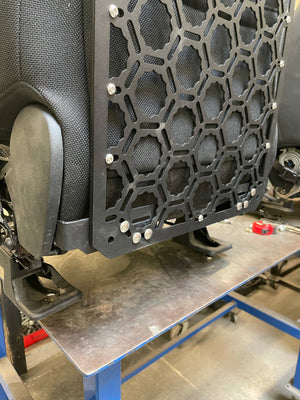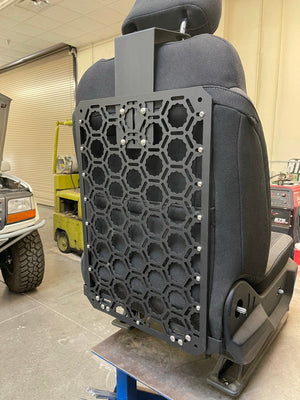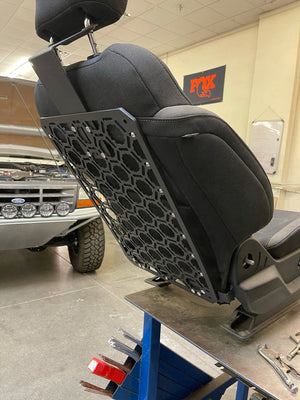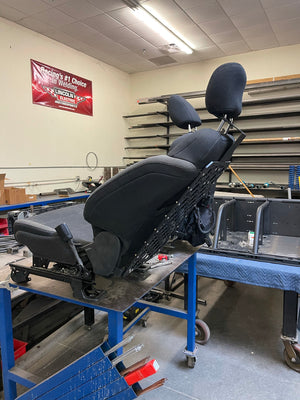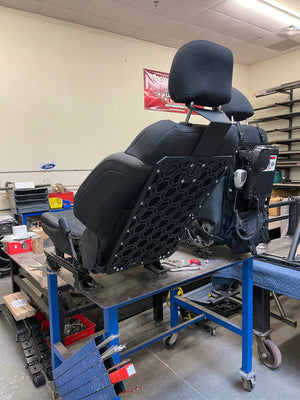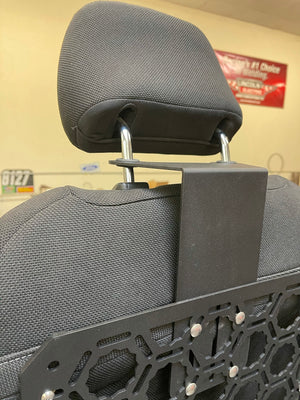 Adapt-a-panel Secure Head Rest Mount kit for 16 x 24 panel mount kit for - Ford Raptor - Ford F150 - Super Duty - Toyota Tacoma 2015 up
Add on mounting kit for the Adapt-a-panel grid panel to bolt onto the back of the seat.  Works on both drivers side and passenger side seats.  Adjustable headrest support plate uses the head rest posts to secure the top and accommodates the seat to recline as normal without damaging the panel.  Second Generation Adapt-a-panel grid panels are the most customizable seat back organizer on the planet.  The new Adapt-a-grid design allows for your creativity to meet function.  Accomplish nearly any configuration for your gear with the patent pending design.  Using a combination of slots and grid inserts you can attach nearly any accessory to this panel and secure it for the ride.  The system accepts 1/4" bolt hardware in all of the slot areas and the grid insert parts are customizable for a range of adaptations.  The grid layout also works great with Molle strap accessories to fill in an open spot as needed.
Second Generation head rest plates have the second generation grid panel holes to support mounting accessories higher up as needed.
Works with base panel size 16" x 24" tall    
Other sizes are available also.  Check the web site for details on all available sizes and options.
Fits:
Ford F150 - 2015 and up with bucket seat and head rest
Ford Raptor 2017 and up
Ford SuperDuty 2017 and up with bucket seat and head rest
Toyota Tacoma 2015 and up
Kit Includes:
1 ea Head rest support plate with rubber grommets
2 ea Lower seat pivot mount plates (one right one left)
2 ea 10MM bolts for the lower mount
2 ea lower bolt spacer tube
4 ea 1/4 carriage bolts for head rest plate to mount to panel
4 ea 1/4 ny-lock nuts
***** Panel not included
***** Other accessories in pictures not included
***** We do not sell guns or weapons
About Us
Adapt-a-panel was formed by a group of active vehicle and outdoor enthusiasts.  The designs and products were created out of the need of the founders in their daily adventures.  All of our in house manufactured products are Made in America so you know you are getting the quality you want and deserve.  We source our add on accessories from reliable and quality companies to bring you the best we can find in every area of our offerings.
All of our panels are made out of aircraft grade aluminum and laser cut for the ultimate precision and quality.  The aluminum construction makes the panel light weight and very durable.  We finish our products off with a high quality textured black powder coat finish to make it look great and last for a long time.  The powder coated finish provides for great protection from UV and moisture to avoid corrosion of the panel to ensure it will last a lifetime.  
Our products we make in house come with a limited lifetime warranty.  So if you have trouble with any quality concerns please let us know and we will work with you to ensure you are satisfied with our product and happy with your investment.
If you can think of something you need that we don't have please reach out and let us know what we can do to better serve you.
We always want to hear from you so please send us an email at adaptapanel@gmail.com
or call our shop at 480-718-9800 
Contact Us
Contact - Adapt-a-panel
Our offices are located in Mesa, Arizona and offer visits by appointment for facility tours and pickups.  Due to the current COVID 19 situation we do not accept walk in customers without an appointment so please call ahead.
Phone: 480-718-9800
email: adaptapanel@gmail.com
Crazy easy and crazy flexible. Love the way I can change my load in minutes and stay on the move. I have panels in my truck and in my bag. The best way to stay safe and on the go.
Jennifer G.